Your New Posing Partner For Life
Discover an unparalleled level of poseability
Intuitive flexiblity at your fingertips
Engineered Precision Built to Last
Poseable Mannequins for Drawing and Animation
Precisely Calibrated Magnetic Figure Models for Beginners and Experts
Art and Animation Figures & Accessories—Fast Shipping!
Indispensable for Artists and Animators to illustrate and animate ideas quickly with your hands.  Stickybones are designed and manufactured in the USA, and feature a revolutionary, patented joint system that unlock infinite possibilities for posing.

Stickybones are perfectly calibrated to express your artistic ideas. If you want the best drawing reference figure to explore the widest range of poses and human expression, Stickybones are the absolute best tool for the job.

10 Qualities You Can Depend On With Stickybones:
* Ease-of-use
* Mind-bending poseability
* Incredible joint strength
* Everlasting durability
* Free-standing even in the most extreme poses
* Silky smooth joint rotation for precise movements
* Comes with a high-quality stainless steel pose plate
*Designed by an animation industry professional
*Made in the USA
* LIFETIME WARRANTY

Product Details:
(We will replace any defective or non-functioning part/s for the lifetime of ownership.)
LIFETIME WARRANTY (Click for details)
Materials:   Custom Polymers
Measurements:   8.5" L x 1"W x 1"H
—Designed/Engineered/Manufactured:   United States
— Patented Designs and Joint System Enables Fast & Intuitive Posing
— Unparalleled Wide-Range of Motion, Strength and Durability
— Custom Engineering-Grade Polymer Construction
— 6 Internal Rare-Earth Magnets Contained Within Parts
— Precision Design & Molding
— 18 Gauge Stainless Steel 5" Round Pose Plate Included
Stickybones are used at these amazing studios and by thousands of talented artists around the world!
.

.
WHAT OUR CUSTOMERS ARE SAYING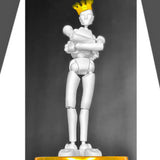 ⭐️ ⭐️ ⭐️ ⭐️ ⭐️ Stickybones is the king/queen of figures. Looks amazing, articulation is fantastic, the design is fantastic. The material the figure is made out of is solid and strong yet flexible, the color palette is awesome. Team sticky bones is supportive and encouraging, and so is their IG community. I love being part of this community that supports my creative voice.
⭐️ ⭐️ ⭐️ ⭐️ ⭐️ I got this Sticky Bones, not because I'm an artist or animator (I do dabble with drawing from time to time), but because I wanted something for my desk at work. Needless to say, the second I put this thing together, I smiled the biggest smile I've had in years.

The pose-ability of this thing is unreal, and I've bought my share of fully articulated toys in the past. Nothing comes even remotely close to the complexity of poses you can achieve with a Sticky.This thing brings me joy on a whole other level.

So if you're on the fence about buying one because of the price, just do it. Treat yourself or anyone you know who still has their Inner Child residing within them. They'll love it. I can't wait for my son to go to bed so I can break him out again tonight.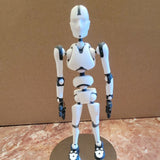 ⭐️ ⭐️ ⭐️ ⭐️ ⭐️ I have several types of art related manikins for my art projects but nothing like this! The height and width of my Sticky Bones figure is perfect and easy to work with. I am extremely impressed on how it is designed and feels. Truly a masterpiece in more ways then one! You can really pose it with very human gestures and movement. I plan to get another one! Thank you so much!!